Bouquets and Flower Processing
Welcome to Melle Jongkind
Your sustainable partner in high-quality flower processing
Melle Jongkind processes fresh flowers daily into handmade bouquets for online flower suppliers, its own webshop, wholesalers and flower stores. We work on demand, with predetermined weekly prices. We also process flowers for exporters; among other things, we prepare flowers for air freight.
Our 65 employees are committed to the highest possible quality every day. Our flexible operations allow us to provide pure customization and, of course, there is plenty of attention to sustainability. Optimal service, quality and reliability are important values for us.
50,000 to 250,000 flowers per day
Every morning our experienced buyers purchase some 50,000 to 100,000 flowers on the clock at the flower auction in Aalsmeer. At peak times, these quantities run as high as 250,000. All of these flowers are processed by our florists by hand into a wide range of luxury bouquets. At the five production lines, fresh and high-quality Biedermeiers, field bouquets, mono bouquets and much more are created daily.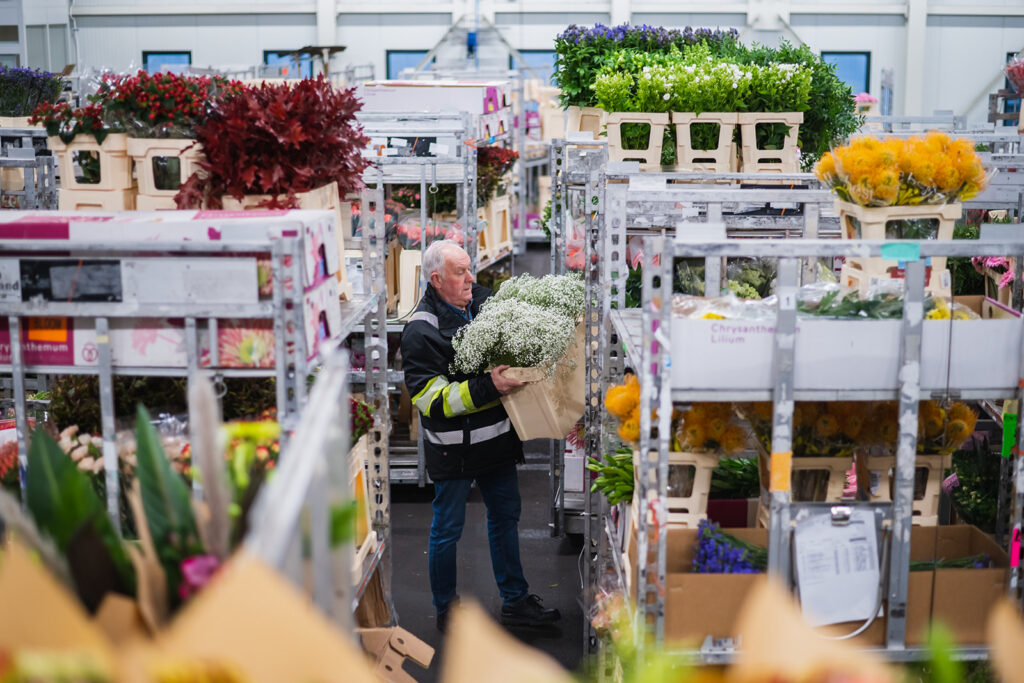 In addition to creating bouquets, we are engaged in bunching, packing, processing orders for e-commerce and preparing flowers for air freight. This is always custom work. For example, we can purchase the flowers and packaging, but a customer can also supply their own products and arrangements. Anything is possible, just discuss it with us!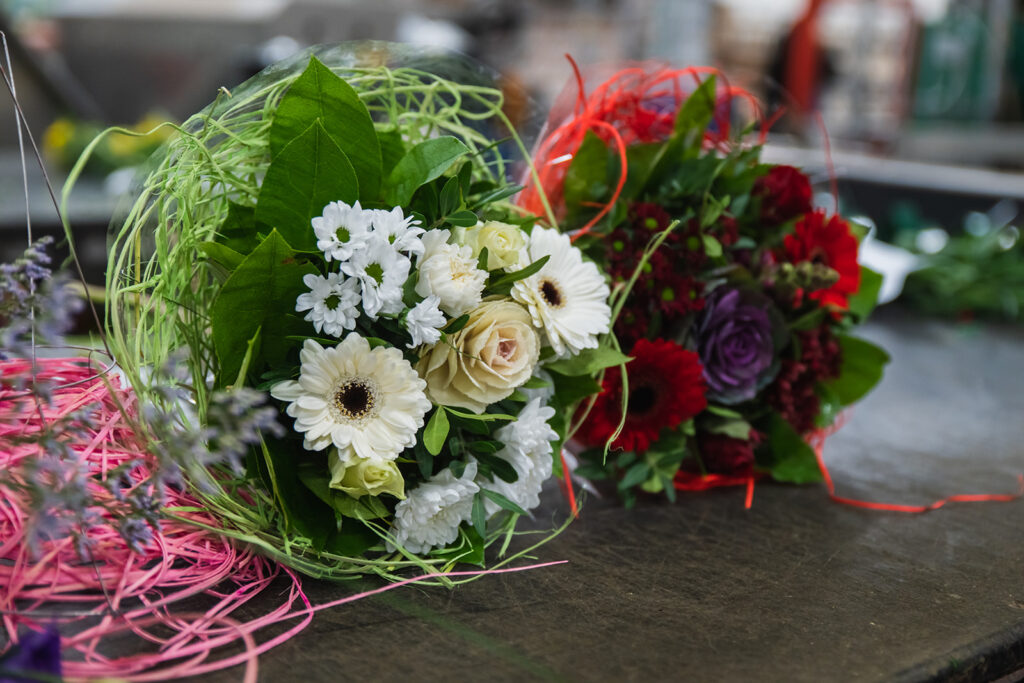 We offer bouquets in all styles, shapes and colors, with different stem lengths and with various amounts of stems. What the flowers have in common is freshness and quality. We work on demand and with predetermined weekly prices.
For our complete range of field bouquets, picking bouquets, Biedermeier bouquets, specials, shorties, sisal bouquets, mono bouquets, aqua bouquets, seasonal bouquets, bouquets in vase and the bouquet of the month, go to the assortment page. In addition to the items on the assortment page, we provide customized products. Everything is possible!
No-nonsense family business
over 40 years of experience
The flower business that Melle and Gea Jongkind started in their barn more than forty years ago grew into an internationally operating flower processing company. The original character of the business was always preserved: Melle Jongkind is a no-nonsense family business, with a heart for flowers, employees and customers. Son Helmuth Jongkind grew up in the business and took over in 2017. Since 2018, Melle Jongkind has been located in a spacious building on the South grounds of Royal FloraHolland, the flower auction in Aalsmeer.
Working at Melle Jongkind
Melle Jongkind is an internationally operating family business with a history of more than forty years. There is an informal atmosphere both in the office and on the production lines. The lines of communication between management and staff are short. We employ people of all ages and from many different countries. New employees are paired with a buddy, who introduces them to the company. In addition to Dutch and English, our buddies speak Spanish, Polish and Russian, among other languages. We are regularly looking for motivated people to best serve our customers.
Follow us on social media